Indian tan leather latigo lace 5-6 ft long (1 big bundle) E9-61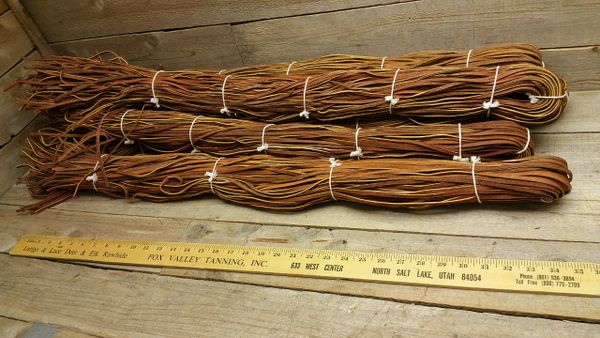 Indian tan leather latigo lace 5-6 ft long (1 big bundle) E9-61
you are bidding on
1
bundle of
leather cow hide string/ laces

boot / shoe lace
Indian tan in color

This leather is a cow hide lace.
Length mostly 5-6 ft long and Width mostly 3/16-1/4 wide.

approx 5-6 ft length lace. Width may vary but averages approximately 3/16-1/4" .

This product is made of 5-6 oz. Chrome Tan Cowhide. approx 50-75 ft per bundle
About Our Leathers and Colors
The all natural beauty and patina of leather will vary according to the characteristics of the original hide and the type of processing used to manufacture them. Therefore, colors and hues will vary slightly. Your computer or phone monitor may show slightly different hues, as well. But one thing we can guarantee is that the colors are always beautiful!
Featured Products